Fondazione Palazzo Ducale Genova
Wolfsoniana
Musei di Nervi
via Serra Gropallo 4,
16167 Genova Nervi
orario invernale
(da novembre a marzo):
martedì-domenica 11-17;
lunedì chiuso
orario estivo
(da aprile a ottobre):
martedì-venerdì 11-18;
sabato e domenica 12-19;
lunedì chiuso
tel: 010 32313329

http://www.wolfsoniana.it
The Library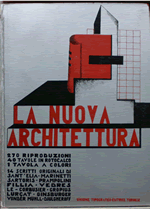 The library, thematically linked to the Collection, assembles nearly 7.000 books. A vast section is dedicated to the Futurism Movement: besides possessing almost all the "manifesti", it has precious manuscripts, magazines, postcards, photos, brochures and books, among which Zang Tumb Tuum by F.T. Marinetti (1914) with an autographed dedication by the author, Guerrapittura by Carlo Carrà (1915), Bif¦zf+18 Simultaneity and lyric Chemisms by Ardengo Soffici (1919), Radio Lyrics by Fortunato Depero (1934), and the Lyric Watermelon, the famous litho-tin by Tullio d'Albisola and Bruno Munari (1934).
The sections dedicated to decorative arts, design, architecture and town planning are particularly significant, as well as those concerning means of transport, international exhibitions and political propaganda.
The library can be visited by students and scholars by appointment.